Stephen Colbert Met His Wife Evie in the Most Adorable, Rom-Com-y Way Ever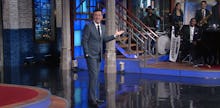 No shade if your relationship's origin story involves Tinder and/or a bar, but listen: The story of how Stephen Colbert met his wife Evie is cuter. Sorry! But it's true.
During a Q&A before a recent taping of The Late Show With Stephen Colbert, Colbert treated the audience to "the short version" of how the universe brought him and Evie together more than 20 years ago.
It all started when the woman he was halfheartedly seeing at the time gave him an ultimatum about getting married and he traveled home to Charleston, South Carolina, to mull it over. After talking to his mom and realizing that his ambivalence was reason enough to end the relationship, he decided to go to an arts festival to unwind.
And that's where he saw Evie across the lobby — and it was pretty much love at first sight!
"We took two steps out of line, and we talked for two hours," he said. "And I was completely taken."
Colbert spends six and a half very enthusiastic minutes going into the details of the romantic comedy-esque meet-cute. The whole thing is enough to make even the Scrooge-iest curmudgeon be like, "OMG. Aww. He loves his wife so much. This is an adorable story. Love is special and we should cherish it!"
New tip for the SINGLE AND LQQKING people of the world: Step away from the dating app, step into an arts festival!
You can watch the full video below. 
Read more: