Police Station Warns 'Pokémon Go' Gamers Not to Terrorize Them Trying to Catch 'Em All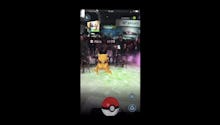 Pokémon Go, a smartphone game that uses your phone screen and camera as a portal to bring augmented reality Pokémon characters and battles into the real world, will be available on Android and iOS Wednesday — meaning you're going to see a whole lot of grown-ass adults running around in search of Pokéballs. 
And it looks like the Pokéthirst is leading some nerds straight into their local police station. To which the department says: GTFO.
The Northern Territory Police, Fire and Emergency Services posted a note on Facebook on Wednesday politely asking "budding Pokémon Trainers" to stay the hell out of the police station on their hunt for Pokéballs. 
The post in full:
For those budding Pokémon Trainers out there using Pokemon Go — whilst the Darwin Police Station may feature as a Pokéstop, please be advised that you don't actually have to step inside in order to gain the Pokéballs.
As one commenter wrote, "This is getting out of control." 
And it appears the Pokéballs may be hidden dangerously close to your local emergency services! Nerds, at what cost will you catch 'em all? 
And as another Facebook commenter said, "I'm gonna get arrested."  
"Our resident Pokémon Master was furiously refreshing the app store waiting for the game and once it was discovered the local police station was a Pokéstop, we put Officer Jenny on the case," a Northern Territory Police Spokesman said in an email. "She was kind enough to test it out for us, to make sure people didn't have to flood the foyer to stand in front of the painting that is featured. In fact, it's possible to gain the bounty from the other side of the street. No sights of Growlith yet, but we are holding out hope." 
What a time.
July 7, 2016, 9:45 a.m.: This story has been updated. 
Correction: July 7, 2016 
Read more: