Comedian Jim Jefferies Exposes the Truth About Donald Trump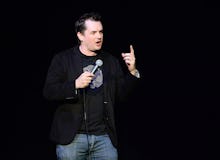 Australian comedian Jim Jefferies compared Donald Trump to a kid running for class president during a recent performance in Nashville — and it's a perfect analogy:
"But here's where it's not fun," Jefferies said after the class president bit, silencing the audience's laughter. "What he does is he preys on fear."
"He's trying to defeat hate with hate." he continued. "And hate doesn't beat hate, it's never fucking beat hate. It just makes more hate."
Watch Jefferies' full Trump takedown:
Read more: