Marvel Debuts a New Iron Man — And She's a Black Woman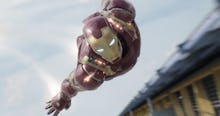 The next incarnation of Iron Man won't be a man at all — she'll be a whole new take on the character.
Riri Williams, a young black genius who started at the Massachusetts Institute of Technology at age 15, will be taking over as Iron Man at the end of Marvel Comics' Civil War II series, according to Time. It's the latest in a set of inclusive moves by Marvel, which has been diversifying its slate of heroes gradually over the last few years.
"There was a part of an audience crawling through the desert looking for an oasis when it came to representation," Civil War II writer Brian Michael Bendis told Time. "Now that it's here, you'll go online and be greeted with this wave of love."
Bendis conceived Riri while working on an unaired TV show in Chicago. He took the story as inspiration: a "brilliant, young woman whose life was marred by tragedy that could have easily ended her life ... went off to college." The writer cited it as "the most modern version of a superhero or superheroine story" he'd ever heard.
Years later, he introduced Riri as a young genius remaking Iron Man suits who catches Tony Stark's eye. She follows in the footsteps of other people of color (Miles Morales as Spider-Man) and women (the female Thor) in stepping into an iconic Avenger's suit. Tony will retire at the end of Civil War II, according to Time, and Riri will step up.
Marvel's comic series remain markedly more diverse than their films — and this is just another step forward. The Marvel cinematic universe has to try even harder to catch up now.
Read more: