These Jon Snow and Tyrion Lannister 'Game of Thrones' Supercuts Will Give You the Feels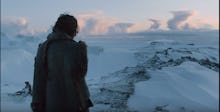 It's easy to forget just how far the characters in Game of Thrones have come in their individual journeys over six seasons, particularly the protagonists we've been following since the pilot, namely Jon Snow (Kit Harrington) and Tyrion Lannister (Peter Dinklage).
To demonstrate just how arduous of a journey it has been, YouTuber TheGaroStudios created supercuts for each character spanning the six seasons.
First there's Jon, who, no biggie, came back to life after being stabbed to death by his brothers in the Night's Watch. Jon's resurrection, and the ultimate reveal of his true parentage to Bran Stark and the audience, have defined his journey from Northern bastard to the King in the North. Also defining that journey were the crapload of battles he waged along the way.
Conversely, Tyrion's progress has seen fewer battles, but he's constantly been knocked down by his own family for being a dwarf. The video cuts back and forth between the main perpetrators of these verbal transgressions: his father, Tywin, and sister, Cersei. 
Though ultimately Tyrion has the last laugh over his spiteful family. As the montage also notes, Tyrion kills Tywin on the toilet, and he sails to Westeros at the end of season six with Daenerys Targaryen's fleet as Cersei sits on the Iron Throne will few allies at her side. Soon enough, as the video title indicates, he should be the "Hand of the Queen." 
You can check out both Game of Thrones supercuts below: 
Read more: