Two White Boys Arrested With BB Guns Were Ordered to Write an Essay About Tamir Rice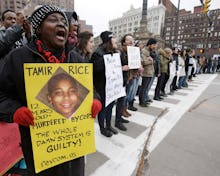 This story of two white boys caught playing with BB guns had a much different ending than the case of 12-year-old Tamir Rice, who was fatally shot by Cleveland police while playing with a toy handgun in 2014.
Back in February, two brothers, ages 12 and 15 at the time, were spotted playing with BB guns in a park in Parma, Ohio, a suburb of Cleveland. The police were called, and, according to Cleveland.com, the dispatcher who was in communication with the offers "didn't know if the gun was real."
But when officers arrived, they didn't fire at the kids — instead the boys peacefully surrendered their toy guns and were arrested. Earlier this week, the judge handed down their punishment: Both kids must pay court costs and "write the judge a report on how their cases are different and how they are similar to the Tamir case," reports Cleveland.com.
It's possible that the city has learned from Rice's death — and Magistrate Je'Nine Nickerson, who handed down the decision, brought up the difficult nature of deciding, within seconds, whether a gun is real or a toy (a problem that could easily be solved).
But some suspect the fact that the boys were white helped inoculate them against paying for their indiscretion with their lives, as Rice did. According to the Washington Post, which analyzed fatal police shootings in 2015, black people were killed by police at three times the rate of white people "or other minorities." Black Americans killed by police are also twice as likely to be unarmed as white Americans, the Guardian reported in 2015.
Many on social media are pointing out what appears to be a double standard in the police's treatment of boys with toy guns depending on the color of their skin.
Both boys will be back in juvenile court in August to hear whether their charges will be dismissed.
Read more: