Did Bernie Sanders Blow His Chances by Ignoring Hillary Clinton's Email Scandal?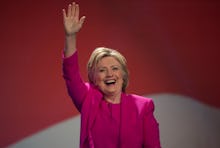 On Tuesday, FBI Director James Comey told the press that former Secretary of State Hillary Clinton's use of multiple private email servers while she was Secretary of State was "extremely careless" though did not rise to the level of criminal activity. Thus, the Clinton email scandal — long a favorite boogeyman of the right — essentially came to a close, with further political fallout limited and the worst outcome, a criminal indictment, averted.
But as Clinton was taking her victory lap, some speculated that Vermont Sen. Bernie Sanders could have been taking his instead. If Sanders had pressed Clinton on her email servers rather than famously shouting "The American people are sick and tired of hearing about your damn emails!" in an October 2015 debate, the argument goes, the Democratic Party might still have a race on for the nomination or a different front-runner entirely.
According to CNN Politics, prominent critics insisting the FBI's decision not to prosecute proved Sanders' point included actress Rosario Dawson, actor Mark Ruffalo, New York Daily News columnist Shaun King, and radio host Katie Halper.
Would it actually have been wise for the self-declared democratic socialist from Vermont to go after Clinton on the email issue? There's some evidence to back the assertion. Clinton has long suffered from her widespread public perception as untrustworthy or dishonest, and the FBI investigation did reveal her press secretary Nick Merrill provided inaccurate information to federal law enforcement officials. Then there was the multiple occasions in which Clinton's well-known defensiveness came across as flippant or obfuscatory, which may be an understandable reaction to the volume of criticism headed her way but still a bad look for a presidential candidate.
So yes — if Clinton's most prominent leftist critic had decided to go after her over the email scandal, it is possible Sanders could have damaged her candidacy. On the flip side, however, the course of the race strongly suggests the move could have backfired in more ways than one.
One CNN Politics poll from March 2016 found just 27% of Democrats "think Clinton did something wrong by using the personal email system," and just 30% believed Clinton had not done enough to clear the air over the scandal. That's less than a third of Democrats, making concern over the servers a distinct minority viewpoint within the party. Breaking down the results a bit further, just 37% of non-white voters believe Clinton's use of the servers was "very serious" or "somewhat serious," while a full 62% believed it was either "not too serious" or that it was "not a serious problem at all."
Much of Sanders' failure to secure the nomination was due to not winning over these voters, who were solidly in the Clinton camp on the email issues.
But okay, attacking Clinton over the emails might have made a dent in her support. The problem with this argument is that by shielding Clinton and presenting a united front, Sanders actually ended up helping himself. His "sick and tired of your damn emails!" line ended up being one of the biggest news stories of the evening. Sanders actually rose in polls after the debate, and quickly outperformed initial expectations his "revolution" would fail to generate momentum.
Everything in politics is a tradeoff. By refusing to parrot the GOP's attack lines on Clinton, Sanders may have traded an attack line of dubious viability for a major media coup and goodwill with Democratic voters. It's when the race got particularly negative later that team Sanders found themselves losing steam. There's no accounting for infinite possibilities, but Sanders had at least as much to lose as he had to gain by going after Clinton over an email scandal most Democrats don't think is actually much of a scandal at all.
Read more: