University of Tennessee Settles Title IX Suit Addressing Campus Sexual Assault by Athletes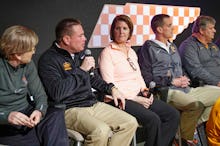 In February, six women filed a federal suit against the University of Tennessee, alleging that the school had violated Title IX in showing "deliberate indifference" to sexual assault, especially when perpetrated by athletes. Now, the university has settled the case for nearly $2.5 million dollars. 
According to ESPN, the university "is not admitting guilt, negligence or unlawful acts." Still, the women's attorney, David Randolph Smith, said in a statement that the school has made strides in the way it handles assault reports and will be dropping the case:
We are satisfied that, while universities everywhere struggle with these issues, the University of Tennessee has made significant progress in the way they educate and respond to sexual assault cases. My clients and I are also convinced that the University's leadership is truly committed to continue its exemplary efforts to create a model as it relates to sexual misconduct.
Two women joined the original six in their claims, brought to the university's attention between 2013 and 2015. All said that the school stacked the deck against victims in examining assault allegations; that the university "denie[d] victims the rights to a hearing and to the same equal procedural, hearing, and process rights as given to perpetrators of rape and sexual assault," according to CNN. 
Campus sexual assault is an increasingly visible problem at colleges and universities nationwide, especially in the wake of lenient sentencing for ex-Stanford swimmer Brock Turner, who was recently convicted of assaulting an unconscious woman behind a dumpster. 
Title IX prohibits sex discrimination in education and should protect victims, but often, it's inadequately enforced, preferential treatment given to perpetrators. Chancellor Jimmy G. Cheek said the university is working to change that:
"Like many institutions we are not perfect, but our goal is to continue to be the best we can be at creating awareness, educating and preventing discrimination and abuse in any form, and to continue to be equally prepared when it does happen and to deal with it promptly, sensitively, fairly and effectively. We've come a long way in recent years, and we are working every day to be even better."
Read more: