Donald Trump Flip-Flops on North Carolina's Anti-Transgender Law, Says He Now Supports It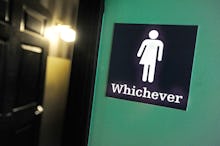 Mere months ago, presumptive Republican presidential nominee Donald Trump was A-OK with allowing transgender people to use the restrooms of their choice.
In April, amid a heated debate about North Carolina's House Bill 2 restrictions on public bathroom use, the real-estate mogul said the Tar Heel State had caused a self-inflicted wound to its own economy.
But now the self-styled non-politician is being decidedly political about the whole thing.
In an interview with the Raleigh News & Observer ahead of a campaign rally Tuesday night, Trump sided with the state's HB2 restrictions.
"I'm going with the state. I mean, the state is — you know, they know what's going on. They see what's happening, and generally speaking, I'm with the state on things like this," Trump said. "And I've spoken to your governor. I've spoken to a lot of different people, and I'm going with the state."
Trump's positioning in support of HB2, which prohibits people from using bathrooms that don't correspond to the gender they were assigned at birth, does line up with comments he made in May on school bathroom use.
In an interview with Good Morning America as the White House issued guidance suggesting school restrooms should not be limited by gender assignment, Trump said "the state should make the decision."
But that stance was a shift from April, when he said on NBC's Today that North Carolina should have left well enough alone because there had been "so little trouble" before the regulations were advanced.
"What they're going through with all of the business that's leaving, and all of the strife — and that's on both sides — you leave it the way it is," Trump opined amid protests and celebrity boycotts of the state over the controversy.
"The problem with North Carolina is the strife and the economic punishment that they're taking, so I would say that's probably the best [plan]."
Trump also said in that same April conversation that Caitlyn Jenner was welcome to take her choice of restrooms in Trump Tower.
She did.
Read more: