Wedding Savings Hacks: These Smart Moves Will Save You a Ton of Money on Your Big Day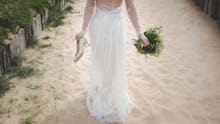 My fiancé and I got engaged on a Saturday. On Sunday — our heads spinning with excitement — we assembled a lengthy wedding guest list. That guy I met on vacation? Put his name down. Our old college roommates? Invite the whole dorm!
Things changed when we booked a caterer, established a price per head and calculated how much we'd be spending on food. Again, our heads were spinning — but this time, not from post-engagement bliss. 
Our catering cost was astronomical and it needed to come down. 
If you've ever perused Pinterest or watched Say Yes to the Dress, you know it's easy to get swept up in the popular — and pricey — wedding culture. Before you know it, you're forking over your life savings for a 300-person guest list, a $34,000 Pnina Tournai gown and a grand entrance on a unicorn — and you don't even like horses.
It doesn't have to be that way. "It's a wedding, yes, but it's also an event — a party — a one-day thing," said Sarah Schacht, author of this genius guide to dumping the wedding industrial complex. "I think there's this misconception over what you actually need for a beautiful, lovely wedding."
Avoid vendors who specialize in weddings
The cost: Caterers, venues and other vendors tend to upcharge you when they know it's your wedding, Schacht noted on Medium. She pointed to this 2014 investigation in Australia that found vendors charge brides significantly more money if they know the event they're catering is a wedding.  
What to do instead: "If you find businesses and resources that meet your needs, but aren't wedding-focused, they'll see your business as a pleasant surprise and value your business more," Schacht wrote.
Instead of having a wedding caterer provide your food, recruit a restaurant or a food truck.
And instead of booking a banquet hall, Schacht suggested looking at "nonprofits, restaurants [and] public venues like parks and publicly owned buildings."
Swap the open bar for something more original
The cost: Unlimited tequila shots seem fun, but an open bar is a pricey beverage option. Bar packages vary in cost, but you may end up paying $20, $30 or even $50 per guest, just for drinks.
What to do instead: Opt for a few signature cocktails — which seem classy despite setting you back way less than an open bar — or bring in kegs. 
"Ask wineries for a wine keg," Schacht said over the phone. "If there are local wineries, they probably provide [kegs] to local restaurants. It's worth checking around."
Scrap the paper invitations
The cost: I know, I know... you want those sturdy, embossed invitations. But they come at a high price. Engraved invitations start at around $2,000 for a set of 100, according to Brides magazine. Even less-fancy options, like digitally printed invitations, can cost up to $1,000 for a set of 100. 
What to do instead: Use an online invitation site, like Paperless Post, that lets you send digital invitations for free. Don't feel bad for skipping the physical invitations; most of your guests will eventually throw them out, anyway.
Get a DJ, not a live band
The cost: Folks will tell you a live band makes a wedding. But a Real Weddings Study report found they cost $3,084 on average in 2012, according to U.S. News. 
What to do instead: Get a DJ — they cost an average of $988, that same study found. And besides, your favorite songs will sound just the way they do on the radio.
Forget the personal trainer or fancy meal plan
The cost: Personal training sessions at mainstream gyms can cost more than $100 for a single session. Healthy meal delivery services can cost more than $80 a day — and don't get me started on those $300 juice cleanses. 
What to do instead: More power to you if you're working out to improve your health or de-stress. In that case, try a free yoga class in a local park, or learn from a free online video.  
But if you're stressing about weight loss because of pressure to meet beauty standards, please think again. You'll be beautiful on your wedding day no matter what, because you'll be happy as all heck.
Read more: