Alton Sterling's Wife Quinyetta McMillan Delivers Tearful Speech Following His Death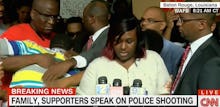 At a press conference following Alton Sterling's Tuesday morning death, Quinyetta McMillan, Sterling's wife, gave a poignant and emotional speech that addressed the significance of her husband's death; their 15-year-old son, Cameron Sterling, stood beside her as she spoke.
Alton Sterling was selling CDs in front of a Triple S Food Mart in Louisiana's East Baton Rouge Parish when he was confronted by two officers. Following an altercation, Sterling was stunned with a stun gun, pinned down and then shot by one of the officers. 
"You will see with your own eyes how he was handled unjustly and killed without regard for the lives he helped raise," McMillan said in her statement to the press. 
She went on to call Sterling "the image of a man who simply tried to earn a living to take care of his children," adding, "With that being said, the individuals involved in his murder took away a man with children who depended upon their daddy on a daily basis."
In her speech, McMillan said how the footage of Sterling's death is an inescapable burden for her children to bear. "As a mother, I have now been forced to a raise a son who is going to remember what happened to his father, that I can't take away from him — he is at an age of understanding," she said. "I hurt more for him and his loss. As a parent, one of the greatest fears is to see your child hurt and know there's nothing you can do about it."
She ended her speech by thanking those who expressed condolences to her and Sterling's family, especially those in Baton Rouge. "What I saw last night from the citizens of Baton Rouge will forever warm my heart," she said. "We are a complete community of individuals who will carry this burden and also stand together to ensure that this event will not go unnoticed, especially for the future. I, for one, will not rest or not allow him to be swept in the dirt."
Protesters were quick to react to Sterling's death, which they believe is an injustice and a clear example of how racism is systemic to the criminal justice system. His death makes him the 114th black man killed by police this year. 
Read more: