Jesse Williams Just Tweeted a Perfect Response to the Shooting of Alton Sterling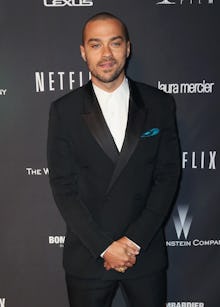 Ever since he delivered an impassioned speech about blackness in America at the BET awards in June, Jesse Williams has been on fire.
The Grey's Anatomy actor — who recently appeared in the documentary Stay Woke: The Black Lives Matter Movement — has long been a vocal and visible advocate for black rights. 
Williams' latest feat of activism came Wednesday when he tweeted out a furious response to the killing of Alton Sterling, a 37-year-old father and black man who was shot and killed by police in Baton Rouge, Louisiana.
"In the interest of time, would ye noble patriots please provide a list of infractions punishable by spontaneous public execution? Thanks!" Williams tweeted, appearing to invoke the oftentimes dangerous act of living while black.
As Mic's Jamilah King recently pointed out, the list of mundane activities that can have deadly consequence when they are performed by someone with black skin is long and infuriating. It includes everyday occurrences like riding a train, wearing a hoodie and now, in the wake of Sterling's death, selling CDs outside of a supermarket.
"Upon receipt of this list, we'll return to our quarters and study up, eager to enjoy freedoms of white mass murders," Williams tweeted. "You chumps will NEVER provide this list... We see through you."
Since his public call to arms at the BET Awards, Williams has drawn the ire of those who believe that his speech calling for equality was actually a "racist rant" in disguise. A Change.org petition calling on Grey's Anatomy creator Shonda Rhimes to fire Williams from the show has been widely circulated on the internet, and has so far garnered more than 5,000 signatures.
One portion of the petition reads:
"Upon receiving a humanitarian award at the BET awards, Jesse Williams released a cascade of inappropriate, unprofessional and racist commentary against police officers and Caucasians. Had any one of his offensive words been said by any other race other than an African American, they would've been publicly shamed, fired from whatever job they had, lost endorsements, advertisers, etc."
On Tuesday, Rhimes tweeted a tongue-in-cheek refutation of the petition, seemingly showing solidarity with Williams.
Read more: