Snapchat's "My Eyes Only" Is the Company's Nod to Nude Selfies — Here's How It Works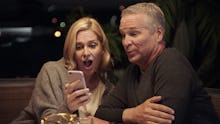 If Snapchat is hacked, it's going to be very bad — the ephemeral photo sharing app just announced a new feature to hide and save those NSFW photos. 
My Eyes Only is a new Snapchat feature that keep a stash of snaps you might not want mom or dad to see in a more private section of the app. 
Snapchat also introduced Memories — a feature that lets you create Stories from previous snaps, not confined to the 24-hour lifespan of current Stories. Photos and videos used in Memories and My Eyes Only will be backed up in the cloud. 
"We realized that Snapchatters want to feel comfortable showing their Memories to friends while they're hanging out together, so we made it easy to move Snaps and Stories to My Eyes Only — and avoid awkward moments when a friend stumbles upon a Snap meant just for you," Snapchat wrote in a blog post Wednesday. 
Snapchat's move toward affording users with a safe haven for nudes makes sense, seeing as more olds are reportedly flocking to the app. 
It's also an acknowledgment from the company that people aren't just snapping dog faces and rainbow vomit selfies — they're also likely snapping nudes.
Read more: