Hillary Clinton Tears Into Donald Trump: "He Excelled at Ripping People Off"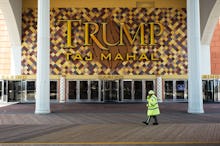 Hillary Clinton on Wednesday relished in attacking Donald Trump's business record, calling his history of bankruptcies and alleged cheating of individuals out of money he owed them "shameful" practices that "every single voter in America needs to know about."
Standing in front of Trump's shuttered casinos on the boardwalk in struggling Atlantic City, New Jersey, Clinton detailed Trump's practice of filing for bankruptcy in order to keep his profits while not paying small business owners what he promised them — the consequence of which led to job losses and companies closing their doors.
"When this casino collapsed because of how badly he managed it, hundreds of people lost their jobs, shareholders were wiped out, lenders lost money, contractors, many of them small businesses, took heavy losses and many themselves went bust," Clinton said in front of the abandoned Trump Plaza casino, which still had the shadow of where the large Trump lettering once stood. "But Donald Trump, he walked away with millions."
Clinton herself was introduced by Marty Rosenberg, a glass company owner who said his business lost $450,000 from Trump after being hired to install glass windows to his shuttered Trump Taj Majal casino on the Atlantic City Boardwalk.
"Trump made a promise to me, my family and to the people of Atlantic City: If you do a good job — if you do a good job, in a timely manner, you will be paid an agreed upon agreement," Rosenberg said. "This promise went unfulfilled. Trump's actions caused great financial burdens to most of us. Some lost their businesses, some went through a bankruptcy, all suffered emotionally. All the while, Mr. Trump went about his extravagant lifestyle, never giving any of us a second thought."
Clinton seized on stories like Rosenberg's to warn voters.
"What he did here in Atlantic City is exactly what he will do if he wins in November," she said.
She also made sure to get in a jab at New Jersey Gov. Chris Christie, a Trump surrogate and potential vice presidential running-mate, who has been working to try and help Atlantic City recover from the failings of the boardwalk casinos.
"It's no secret that Atlantic City has gone through some tough times, but the people of A.C. are determined to turn things around," Clinton said. "You've got a city council and a mayor working hand in hand, and if your governor would start doing his job instead of following Donald Trump around holding his coat, maybe we could really get New Jersey's economy moving again."
In response to the speech, a Trump campaign aide defended the presumptive Republican nominee's business record while saying Clinton's proposals would be bad for business.
"Mr. Trump has created thousands of jobs for American workers while Hillary Clinton has systematically destroyed them," Trump senior policy adviser Stephen Miller said in a statement. "Clinton's policies on immigration, trade, taxes, energy and regulation have destroyed millions of American families and thrown millions of African-American and Latino workers into poverty. She is the enemy of working people, and a servant of the Wall Street donors who fund her lavish lifestyle."
Read more: