This All-Star Couples' Photo of Taylor Swift and Tom Hiddleston Is Truly Something Else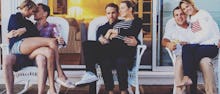 The Fourth of July was a very special holiday this year. Why? Because it was the catalyst that finally convinced Taylor Swift to emerge from her cocoon of Instagram silence.
On July 5, Swift posted no less than eight festive pics of herself and her squad partying it up at her annual Taymerica extravaganza in Rhode Island.
But the real photographic gem of the event was not filed to her own 'Gram. Rather, it was filed to that of Swift's non-famous friend Britany LaManna (whom you may remember as the bride for whom Swift was MOH last year). 
Featuring LaManna and her husband in a white wicker rocking chair next to two other couples  — Ryan Reynolds and Blake Lively and Taylor Swift and Tom Hiddleston — in white wicker rocking chairs, the shot marks Hiddleswift's official Instagram debut. That's big! But the photo itself is worth admiring anyway based on its own aesthetic merits:
The stone patio, the vertical blinds, the hint of couch from the home's immaculate interior a few feet into the background — it is a picturesque scene indeed. And you'll notice that each couple is crafting their own mini-scene within the scene. Their poses, expressions and outfits all add up to a unique couple-signature for each of them.
Let's rank them!
1. Ryan Reynolds and Blake Lively
This couple is the best because look at Ryan's damn face. It's saying so much — "Who am I?" "How did I get roped into this?" "My wife is pregnant with our second child and my lap honestly kind of hurts right now" — with so little. It is the face of a man who is deeply questioning his life choices, adding a deeper level of existential angst to the overall composition.
2. Britany and Ben LaManna
If Ryan Reynolds hadn't decided to bare his soul with the above facial expression, this couple would have been number one. They're looking at the camera and smiling, which is what you're supposed to do when someone takes your photograph! 
Britany and Ben also get points for their footwear choices — bare and flip-flops, respectively — which are the best options for bracing the Fourth of July heat. Being relatable comes naturally to these two, because they're the only normals in the shot.
3. Hiddleswift
Hiddleswift chose to go with the same, familiar "WE'RE SO IN LOVE" aesthetic that they've been exhibiting in paparazzi photos for the past three weeks straight. Boring! Their refusal to switch things up for the 'Gram places them firmly in last place. That said, it is delightful that Tom is wearing Toms.