Hong Kong's Beaches Are Being Overrun By Trash — And It's Only Going to Get Worse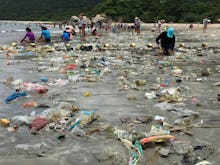 Hong Kong's beaches are being overrun by massive amounts of trash, rendering them almost unusable. 
Especially on Hong Kong's Lantau Island, plastic food packaging and bottles are cluttering the water, while mounds of trash are piling on the sand. 
People are suspecting that most of the trash comes from illegal dumping from mainland China — and that the rainy season will only make it worse. 
"Trash on the beach is nothing new in Hong Kong, but this is completely different to what we would normally see," said Gary Stokes, Southeast Asia Director at the Sea Shepherd Conservation Society, according to CNN. 
On average, Hong Kong sees over 16,500 tons of marine litter annually. 
Some of the trash could also originate from Wai Ling Ding Island, which Stokes said was like "a glacier of trash." Atypical wind or tide patterns could be bringing it right to Hong Kong beaches.
In April 2015, a governmental report deemed that Hong Kong's marine trash pillage "does not constitute a serious problem."
But residents and beachgoers strongly disagree. "No one wants to sit on a beach with this," one Facebook user wrote.
No warnings have been issued by the Hong Kong's government on the severe pollution.
Read more: