Donald Trump Campaign Trumpets $51 Million Presidential Fundraising Haul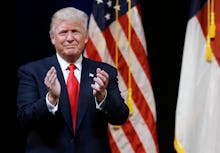 Republican Donald Trump raked in $51 million in June donations to fuel his presidential ambitions, his campaign reported Wednesday.
The Manhattan mogul, who largely self-financed his way to victory in the GOP primary, said his "newly established digital and small-dollar operation rolled out fundraising emails which resulted in over $26 million dollars in donations for June."
The rest of the money came through joint fundraising operations of the campaign, the Republican National Committee and a group of state parties.
Trump additionally gave $3.8 million of his own money to the campaign, bringing the total haul for June to about $55 million.
Team Trump said that more than 400,000 supporters contributed, with nearly all — 94% — giving less than $200.
The presumptive GOP nominee's numbers came amid great anticipation.
Supporters hoped he'd prove he'd have the mettle to mount a serious national campaign as he embarked on his first month of intensive fundraising. Meanwhile, detractors said his donor outreach might be too little, too late when compared to the might of the Hillary Clinton Democratic juggernaut.
Trump stunned the political world when he reported less than $1.3 million in the bank at the end of May, compared to Clinton's $42 million.
Notably, Trump's statement on his latest haul didn't report how much cash he has on hand. A spokeswoman didn't respond to a request for that figure.
"We just started our fundraising efforts in the last week of May and we are extremely pleased with the broad-based support in the last five weeks," said Trump's finance chairman, Steven Mnuchin, in Wednesday's email statement.
The campaign reported holding 22 fundraising events in coordination with the RNC at the end of May and through June.
The Trump operation, while self-publicized as a roaring success, was no match for the showing then-GOP nominee Mitt Romney made four years ago.
As Time noted, "The Romney Victory effort raised $106.1 million in June 2012."
Clinton previously reported raising "more than $68.5 million for Hillary for America, the DNC and state parties across the country in June," allowing her to begin July with more than $44 million cash on hand.
Campaigns often release politically calibrated reports on their fundraising before their official paperwork becomes public. Trump's topline numbers couldn't immediately be verified Wednesday through a formal filing with the Federal Election Commission.
"It's a big number. No doubt about it. But it's still far short of the online fundraising pace that even the Democratic runner-up had set back in the spring," Ian Hines, a digital strategist and fundraiser for Republican candidates and a vocal Trump critic, said in an email.
"The obvious question is how much [Trump] spent in online advertising to hit those numbers," Hines said, "and whether he'll be able to sustain them long-term."
Read more: