On the Last Day of Ramadan, Muslims Thank Journalist for Tweeting Simple Truth About Islam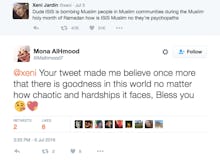 Muslims have been sending loving and kind messages to tech journalist Xeni Jardin for tweeting a simple point: The Islamic State group, also known as ISIS, isn't representative of Islam and Muslims.
After numerous attacks in the Middle East and South Asia, including the bombing outside Prophet Mohammed's mosque in Saudi Arabia, Jardin posted a tweet she said was just a "random thought that popped into my head," she wrote for the Guardian on Tuesday.
In her tweet, Jardin said there is no way ISIS is representative of Islam. "Dude ISIS is bombing Muslim people in Muslim communities during the Muslim holy month of Ramadan how is ISIS Muslim no they're psychopaths."
She referred to the bombings of Muslim-majority countries within the month of Ramadan — the holiest days of the year for Muslims — to prove her point.
Moved by her sentiment, several people around the world reached out, expressing gratitude for her tweet — which has now gained over 47,000 retweets.
Some expressed gratitude for Jardin speaking up for Muslims:
One tweet mentioned Donald Trump, telling him to "read this and use ur brain properly," apparently in hopes he'd learn a lesson or two before making another anti-Muslim remark.
Jardin tweeted that the viral status of her post isn't representative of her popularity or intellect — it reveals just how devastating the current climate is for Muslims worldwide.
Read More: