Andy Cohen's Favorite Drink Has Just 2 Ingredients, Could Be Your New Go-To Cocktail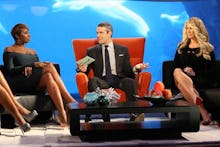 It's easy to imagine that talk show host/producer Andy Cohen might need a drink, or three, while managing dramatic bickering reality stars all day in his role at Bravo. 
And while he hangs with rich and famous celebrities as part of his job as the sassy and sometimes controversial host of Watch What Happens Live, his taste in booze is far from fancy, he revealed in an interview. In fact, the drink he regularly downs on the set of WWHL is made of just two ingredients: Fresca and tequila.
Yup, that's it. Cohen calls the diet grapefruit soda and tequila a "Fresquila." He said that his other go-to cocktail is also just two ingredients — bourbon and ginger ale. (Do note: This is also a safe cocktail to order at pretty much any dive bar.) 
While both drinks are simple, Cohen said he'd love to see the two cocktails transformed into an ice cold dessert: "They would actually be great ice cream flavors." 
As for who Cohen's favorite drinking buddy is, the talk show host revealed that he loves downing Fresquilas and bourbon ginger ales with singer and Taylor Swift ex John Mayer. "He's someone who just will talk endlessly over cocktails," Cohen said. "And another cocktail always seems like a good idea." Cheers to that. 
Read More: