ESPN Body Issue 2016 Celebrates All Athletic Body Types — Here Are the Photos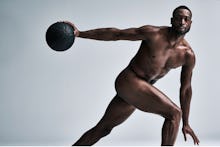 On Wednesday, ESPN released the full gallery of portraits featured in the upcoming 2016 body issue of ESPN the Magazine.
The issue features famous bodies in all of their naked, athletic glory, and the shared images are raw and gorgeous.
Among the 19 athletes featured are NBA Heat guard Dwyane Wade, Pittsburgh Steelers wide receiver Antonio Brown, Olympic fencer Nzingha Prescod and boxing champion Claressa Shields.
The issue doesn't just break ground in body positivity, however. It notably features duathlete Chris Mosier, who became the first transgender athlete to qualify for the Olympics on a U.S. national team in 2015. 
In an interview, Mosier said that he had "wanted to be in the Body Issue for over a year," calling the achievement his first step toward conquering a lifelong struggle with body image.
It was announced previously that Wade, the three-time NBA champion, will cover the issue. In an interview, the 34-year old admitted to having his fair share of reservations about posing in the buff:
To me, doing the Body Issue is bigger than looking at an athlete's body. It's more about the story we are telling of overcoming my fear of doing this. I had a fear of being naked in front of others and a fear of being judged. So to me, overcoming that is the biggest thing. Someone may look at me and think, "Why would you have insecurity?" Well, this is real life and I'm human, and these are the things that I deal with that many others might deal with.
Head over to ESPN for the full gallery — the issue will be available at newsstands on Friday.
Read more: