Let Chrissy Teigen Tell You Why She Shouldn't Have to Lose Her Baby Weight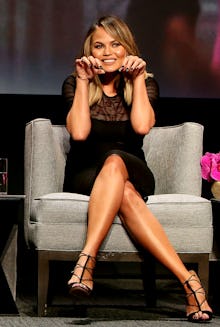 Supermodel Chrissy Teigen is one very high-profile new mom. She gave birth to baby Luna, her first child with husband John Legend, back in April — and now she's using her celebrity to speak out against the pressure placed on new moms to immediately drop the "baby weight."
"You just realize you have to give yourself time and understand that you push out a baby, and it took this long to put on the weight, and it's not going to peel right off, and that's OK," Teigen told E! News on Tuesday. "It's OK! It's fine. Enjoy your baby. Don't go crazy." Teigen also said that Legend has been supportive, noting that "John actually loves the new pieces!"
Teigen's message is a stark contrast to the frequent headlines of women's magazines and gossip sites, which crow about "Svelte Post-Baby Bodies" and promise to divulge how Kate Middleton "Lost Baby Weight 6 Weeks After Giving Birth." Many are fed up with the clichéd trope of a famous woman "revealing" her post pregnancy body.
Teigen's message is important: It's unrealistic to expect people who've gone through the physically taxing and body-altering process of pregnancy and childbirth to immediately looking as though it never happened — and why should we even want that? 
Like Teigen, Kelly Clarkson and Olivia Wilde have similarly both spoken out in support of embracing changed bodies.
"I am not in perfect shape," Wilde told Shape magazine in 2015. "In fact, I'm softer than I've ever been, including that unfortunate semester in high school when I simultaneously discovered Krispy Kreme and pot. The photos of me in this magazine have been generously constructed to show my best angles, and I assure you, good lighting has been warmly embraced. The truth is, I'm a mother, and I look like one."
Read more: