With Live VR Porn, You Can Have "Sex" With a Porn Star Online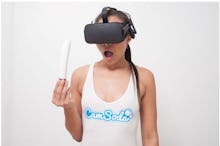 Getting off in the early aughts meant closing your eyes and reaching into the folds of your brain for a suitable spank bank scenario. Tools needed: your imagination, your hand, maybe a pillow and/or a box of tissues. But it's 2016, so you're going to need speedy Wi-Fi to watch a live webcam performer, a smart masturbatory device and a virtual reality headset. 
CamSoda, an adult entertainment webcam platform, is launching live streams that sync up with male and female teledildonics, remote-controlled sex toys. The goal is "replicating the real life experience," according to a press release. The live stream sessions will begin August 1. 
"We want to provide our users with a unique experience that constantly keeps their imagination occupied," Daron Lundeen, President of CamSoda said in a press release.
One might argue you don't really need any imagination at all! Just strap in and sit back and... you know the rest. Hopefully you remembered to juice up your gadgets. 
The virtual reality live stream will work with Google Cardboard, Oculus Rift and Samsung Gear. 
While porn has historically shaped technology, it seems technology is now dictating the direction of porn. In an effort to make porn as close to the intimacy of a human body as possible, adult entertainment companies are encouraging us to drape our bodies in a ton of hardware.
Read more: