New Graphic Video of Alton Sterling Being Killed by Police Officers Surfaces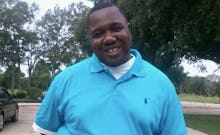 New, graphic cell phone footage of 37-year-old Alton Sterling being killed by police in front of a Triple S Food Mart in Baton Rouge, Louisiana, Tuesday morning has been released by the Daily Beast. 
In the new video — submitted by the store's owner, Abduallah Muflahi, the Daily Beast reported — shows the entire altercation of Sterling being shot multiple times after being pinned to the ground. Then, a police officer removes an unknown object from Sterling's pocket. 
The original video, which has sparked outrage throughout the nation, shows Sterling being tackled, then pans away, although gunshots can be heard. The officers can be heard shouting, "He's got a gun! Gun!" and, "You fucking move, I swear to God." Sterling appears to be saying, "Please!"
The police officers, identified as Blane Salamoni and Howie Lake II, had gone to Muflahi's store as a response to a call that someone was threatening customers with a gun; however, Muflahi told the Daily Beast Sterling wasn't the alleged threatener. The Daily Beast reported Sterling has been "a welcome presence at the store for years where he sold CDs from the parking lot," according to Muflahi. His death marks the 114th known black man killed by police in the United States in 2016. 
The new video, which originally appeared in the Daily Beast, later appeared in a CBS News segment, uploaded to YouTube: 
(Editor's note: This video contains graphic footage. View with discretion.)
Watch the other video below:
Read more: