I Don't Care If Selfies Make You Selfish, They Taught Me to Love Myself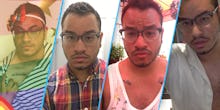 Sometimes, self-esteem comes in short supply when you're a queer person of color and of size. 
Sometimes I hate how my stomach bulges out, that my cheeks lack visible cheekbones or that my eyes seem to be off-kilter. At one point or another in my lifelong relationship with my body, each of its parts has seemed like a deal breaker; the one thing about myself that I can't find appealing, no matter how much I shellac myself with layers of self-confidence.  
There are days when, in the words of K. Michelle, I don't like me. 
But, when I encounter low self-esteem, I count on one tool in my corner to counteract the nasty feelings of worthlessness: the selfie. 
A recent New York Times interview with author and psychologist Michele Borba attempted to diminish the importance of this sacred act, saying that children are growing up with "selfie syndrome," or self-absorption to the point that a person's empathy levels go to zilch. However, I find selfies to have the opposite effect: they've helped me to love myself and, in turn, more freely show love to others. And, in a world that is racist, homophobic and sizeist, I have utilized selfies to help me cope. 
In her famous essay, "The Oppositional Gaze," bell hooks, writing about black women, says that to engage with mainstream media is to "engage its negation of black representation." Expanding what she says about black women to include queer people of color, our engaging with mainstream media is similar. As such, we, like hooks recommends, can also adopt an oppositional gaze. In the age of digital media, our selfies, and the way we gaze at other black and brown bodies is that oppositional gaze made manifest. 
According to hooks, "the ability to manipulate one's gaze in the face of structures of domination that would contain it opens up the possibility of agency." 
"Not only will I stare," she writes, "I want my look to change reality." Taking hooks' words to heart, I've used my selfies to change my reality. 
When I say I'm a femme queer person of color and of size, that means the reality I have to change is a stark one. People who utter phrases like "No Fats, No Fems" remind me that my size and personality are often unwanted in a community that highly values masculinity and muscularity. My race only compounds that — when you're not white, guys are often either into you or not into you for that fact. 
With the unique way in which each of my identities compounds the way others see me — some guys like that I'm Latino, but they don't like my gut; some are all about my size, but don't love that I'm femme — it's no wonder I've come to think of (and judge) myself as often as I'm on the receiving end of other's judgement.
That's why my selfies are a "fuck you" to body shamers and an act of defiance. They may seem selfish, but they're a selfish act in a world that wants to diminish my value and self worth when it comes to my body. 
When I take selfies, I often think of the Latina queen of self portraits, Frida Kahlo, whose image continues to confront beauty standards and force people's gazes to meet her own. Kahlo said she painted self portraits of herself so that she wouldn't feel so lonely — her friends would see them and think of her. 
"The more she painted herself, the more she spread her image among her friends, and the more these friends thought of her," art historian Helga Prignitz-Poda told CNN.
Now, as images of me spread throughout the internet, I'm reminded of the power of my pixelated image as it navigates the digital highway. How will people receive it? Will it be liked? Will my friends, like Kahlo's friends, think of me? 
Kahlo shared her image with others so that she never had to feel alone, and in the age of the hashtag, that action is easier than ever. Our images can find one another. We can be each other's beacons. 
To discuss the impact that images of queer people of color can have, I spoke to artist Gabriel Garcia Roman, whose mural, "Queer Icons," which depicts halo-ed queer people of color, hangs in the Galeria de La Raza in San Francisco. 
According to Roman, the mural pushed back against the LGBTQ community's centering of marriage equality at its political agenda. His art aimed to remind people that LGBTQ people of color existed and that issues like immigration and violence against transgender people have impeded our flourishing moreso than whether we were allowed to marry. He is, like hooks suggested, changing reality. 
"I sort of wanted to flood the art world with images of queer people of color because it's a marginalized group that's not represented and it's not visible in any media," Roman said. "If we're not seen, we don't exist. So, laws won't change for us or anything, we're invisible, or we're just part of this whole construct as "one queer community," as if we're all the same, which is obviously not true." 
Roman's Instagram features selfie after selfie, some edited, some raw, of himself. Roman said that growing up in a working class Mexican household, he wasn't allowed to speak about his looks without being called a "show off" or "conceited" but that selfies have helped him build a self-esteem for himself. 
"It took a lot of work for me to be like, 'Hey, I'm not bad looking' and taking self portraits is a way of me processing that, validating myself," he said. "If I get a like or two, that's even better." 
Does someone's liking my photo counteract the fact that my body has been defiled by other men, men who were in love with me? Will someone pressing the Twitter heart on my selfie erase the memory I have of a close, trusted friend of mine, waking up next to me after a night of intimacy in which he confessed he had fallen in love with me, telling me that he couldn't date me because he didn't see himself dating someone my size?
I may not have reached the highest levels of thirst trappery, but sharing images of myself online does more than garner "likes" — though that is a plus. It counteracts negative memories of my own body and the ways it has survived mistreatment. If my selfies, as hooks says, manipulate your gaze to meet mine, then my body has begun its crawl toward agency. 
"I think [sharing selfies] is brave, but it's also making yourself vulnerable, because you're putting your image out there in the world," Roman said when I told him why I shared selfies. "Not just queer people can see these images, but the mainstream. I think that's really powerful and definitely necessary." 
Sometimes I scroll through  — very, very NSFW — Tumblrs and realize that I'm sexy because other queer men of color and of size are, too. I think about whether these men have ever had a harsh barb tossed at them from someone they trusted. If they ever shared a naked selfie only to get blocked on Grindr. If their stomach has ever gotten in the way of being a full person. 
Selfies of men I barely know online taught me to love myself, and so I share mine with the world. I tweet and post thirst traps because casual scrolls through Tumblr porn showed me that a man like me can be proud of his body, can be aroused by bodies like mine, and can use his body to be brave.