Bernie Sanders Close to Endorsing Hillary Clinton: "We're Going to Go Forward Together"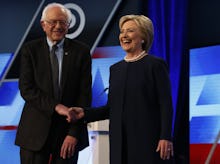 Sen. Bernie Sanders inched closer to endorsing presumptive Democratic presidential nominee Hillary Clinton on Thursday, telling MSNBC he is "working with the Clinton campaign" to defeat Donald Trump.
"I think at the end of the day there is going to be a coming together, and we're going to go forward together and not only defeat Trump, but defeat him badly," Sanders told MSNBC Wednesday night.
MSNBC also reported that the endorsement could come as early as Tuesday at an event in New Hampshire — a state where Sanders crushed Clinton in the primary and where his endorsement could go a long way in uniting the Democratic Party. A Tuesday endorsement would come a little less than two weeks before Democrats meet in Philadelphia for the Democratic National Convention.
Sanders' admission that an endorsement is in the works came the same day that Clinton adopted one of his signature campaign issues on college affordability.
Clinton announced a plan to provide free tuition at public colleges and universities for families earning less than $125,000 — a policy shift Sanders praised.
"I want to take this opportunity to applaud Secretary Clinton for the very bold initiative she has just brought forth today for the financing of higher education," Sanders said in a statement. "This proposal combines some of the strongest ideas she fought for during the campaign with some of the principles that I fought for. The final product is a result of the work of both campaigns."
Talk of a possible endorsement also came the same day that House Democrats booed Sanders during a meeting on Capitol Hill, according to a report in Politico.
Democratic members of Congress grew frustrated with Sanders during the meeting, after Sanders said he wasn't concerned with winning elections.
"The goal isn't to win elections, the goal is to transform America," Sanders said in the meeting, when asked when he would endorse Clinton.
Read more: