'Game of Thrones' Season 7 Production Is Delayed — Here's Why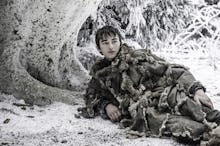 The white ravens that flew out of the Citadel in the Game of Thrones season six finale made an ominous, but long expected confirmation: Winter has finally reached Westeros. That's surely a good narrative turn for the series — the White Walkers might finally march south! — but it's posed a problem for HBO. Now they have to wait for winter themselves.
(Editor's note: Spoilers ahead for the first six seasons of Game of Thrones.)
Game of Thrones showrunners David Benioff and D.B. Weiss, speaking as guests on the UFC Unfiltered Podcast, revealed that a later production schedule — because of the Westerosi weather change — means fans should expect season seven to arrive a bit later than usual. 
"We're starting a bit later because at the end of this season. 'Winter is here' — and that means that sunny weather doesn't really serve our purposes any more," Weiss said. "So we kind of pushed everything down the line, so we could get some grim grey weather even in the sunnier places that we shoot."
It's obviously not the news that Game of Thrones passionate fanbase was expecting — especially off the heels of the announcement that we're looking at two more shortened seasons of the series before it ends. 
Narratively, however, the show is heading the right way. Daenerys Targaryen and her three dragons are sailing to Westeros, Jon Snow's true parentage has been revealed and Cersei Lannister took the Iron Throne in a fiery blaze. Add the long-dreaded winter, and you've got a conclusion that's worth waiting for.
Besides, given George R.R. Martin's sluggish publishing pace, it could be a lot worse. 
Read more: