Jaden Smith Explains the Powerful Reason Why He's on a Mission to Normalize Men in Skirts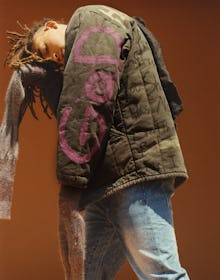 The internet's favorite gender fluid fashion bae, Jaden Smith, is opening up about why his wearing of skirts is more than just a fashion statement, but one that he hopes can invite social change in the way we think about and discuss gender norms.
In a new cover story for Nylon's August issue titled "The Art of Being Jaden," Smith is asked to offer advice to anyone out their struggling with low self esteem or bullying. 
His initial answer is the prototypical "believe in yourself," mantra. What he said next was anything but a canned response.
"The world is going to keep bashing me for whatever I do, and I'm going to keep not caring. I'm going to keep doing the same things — I'm going to keep doing more things. I'm going to take most of the blows for my fellow MSFTS. So, you know, in five years when a kid goes to school wearing a skirt, he won't get beat up and kids won't get mad at him. It just doesn't matter. I'm taking the brunt of it so that later on, my kids and the next generations of kids will all think that certain things are normal that weren't expected before my time."
Smith became the unexpected poster boy for the gender fluid fashion movement when he appeared in Louis Vuitton's Spring/Summer 2016 womenswear campaign rocking a metal embroidered kilt.
As the New York Times' Vanessa Friedman commented at the time: "He is a man who happens to be wearing obviously female clothes. And while he doesn't look like a girl in them, he actually looks pretty good. It's not about the hairy-legs-in-a-skirt bro cliché."
Weeks later, he appeared once more in a skirt in the pages of Vogue Korea.
Of course, these were high fashion instances of Smith rocking his now-signature look, but the traditionally gendered garment had been a part of his wardrobe long before. He rocked a T-shirt dress at Coachella and has been spotted multiple times out and about casually rocking a skirt.
He even rocked a dress when he attended his prom alongside actress/activist Amandla Stenberg.
After all, he told GQ that he likes wearing "super drapey things" so he can "feel as though [he's] a superhero."
He's also been outspoken on social media about his love of all things skirts.
But like the below Instagram, which Smith captioned "Went to TopShop to Buy Some Girl Clothes, I Mean 'Clothes,'" his most defiant act has been his outspoken critique of the gendered way in which clothing is both designed, marketed and distributed to consumers.
Major retailers have begun getting hip to the notion that clothing is not inherently gendered, but a learned way of thinking. In the last year alone, Chanel created its first unisex perfume, Zara created a controversial "ungendered" clothing line and Jessy & Jack created a gender-neutral clothing line for toddlers.
Most recently, 80 state schools across the U.K., 40 of which are elementary schools, adopted gender-neutral uniform policies allowing boys to wear skirts.
"We believe that children have the right to express their own identity in a way that is most comfortable for them." Paula Weaver, headteacher at Allens Croft Primary School in Birmingham, England, told the Guardian.
While policies like this make more concrete progress, it's influencers like Jaden Smith who are really moving the needle and helping to mold minds, so that maybe, some day down the line, these policies won't need to have existed in the first place.
• Shirtless Jaden Smith Is Your New Gender Fluid Bae