Sarah Silverman's Viral Post About Her Brush With Death Is Funny but Chilling Real Talk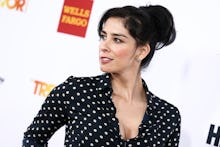 An important life lesson from Sarah Silverman: "Nothing matters." She came to this conclusion, which she called both a "paralyzing realization" and a "motivating revelation," last week, after coming face-to-face with her own mortality. 
In a Facebook post explaining her multi-day absence from the internet, Silverman detailed her battle with epiglottis, a disorder resulting from the inflammation of the skin flap that seals off the trachea, which can be fatal if not quickly treated. She didn't specifically intend to do this. "Don't even know why I went to the doctor," she wrote. "It was just a sore throat." Except that it nearly killed her, leaving her with both nihilistic realizations and existential questions.
"There's something that happens to you when three people you're so close to die within a year and then YOU almost die but don't," she wrote, clarifying that she was "the one who didn't die."
"It's a strange dichotomy between, 'Why me?' and the other, 'Why me?'" Silverman wrote.
The comic woke up after five days of being heavily drugged and attached to a breathing tube. In her post, she profusely thanked her doctors and the entire medical team at Cedars-Sinai Medical Center that saved her, saying she was "insanely lucky to be alive." And she recalled how, still in her drug phase, she passed a nurse a note with a non-sequitur of a question and a penis drawn on it. Even in the face of death, Silverman doesn't lose her sense of humor. 
Read her full post below: