Drake Pens An Emotional Open Letter For Alton Sterling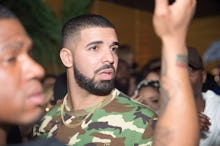 Hitmaker Drake doesn't typically speak publicly on issues surrounding police shootings, gun violence or racial injustice in the United States. But Alton Sterling's death at the hands of Baton Rouge police officers Tuesday night, which marked the 114th known black man killed by American police officers in 2016, left Drake "with a strong need to say something," as the rapper wrote in an emotional open letter.
"Last night when I saw the video of Alton Sterling being killed, it left me feeling disheartened, emotional and truly scared," Drake wrote in a message posted to Instagram Wednesday night. "It's impossible to ignore that the relationship between black and brown communities and law enforcement remains as strained as it was decades ago. No one begins their life as a hashtag. Yet the trend of being reduced to one continues."
"This is real and I'm concerned," he continued. "Concerned for the safety of my family, my friends and any human being that could fall victim to this pattern. I do not know the answer. But I believe things can change for the better. Open and honest dialogue is the first step."
On Wednesday, Louisiana officials announced two officers involved in the shooting were placed on administrative leave. The FBI is also planning on investigating the incident after a video recorded by witness Abdul Muflahi made waves online and sparked protests in the city where Sterling was killed. 
Drake ended his message to his 25 million followers offering his thoughts and prayers to Sterling's family, and those impacted by "this cycle of violence." 
"Be safe out there," Drake signed off. "More life."
Read more: