What You Need to Know About Mary Fallin, Donald Trump's Potential Running Mate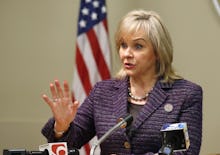 With Sen. Joni Ernst of Iowa out of the running, Oklahoma Gov. Mary Fallin is likely the last woman standing on Donald Trump's vice presidential shortlist.
Equipped with more than a quarter-century of experience in elected office, Fallin, 61, has served as the Sooner State's governor since 2011. Endorsing Trump after he clinched the Republican presidential nomination in May, Fallin made no secret of her interest in the No. 2 job, saying she'd be "happy to take that call."
Here's a closer look at the prospective veep.
Who is Mary Fallin?
A graduate of Oklahoma State University, Fallin made her first foray into electoral politics in 1990, winning election to the state legislature. Four years later, Fallin was elected to her first of three terms as lieutenant governor of Oklahoma.
In 2006, voters in the state's fifth congressional district sent Fallin to Washington, D.C., where she served two terms in the U.S. House of Representatives prior to her election to the governorship.
Fallin's first marriage, to dentist Joseph Fallin, ended in divorce. Since 2009, Fallin has been married to attorney Wade Christensen; according to her official state biography, the pair have six children between them.
Last year, Fallin attracted national attention when her then-28-year-old daughter, Christina, was forced to move her trailer off the governor's mansion grounds. Fallin explained that she allowed the arrangement — a violation of zoning regulations — because her daughter was "in-between living arrangements" at the time.
Why would Trump pick her?
For a candidate viewed unfavorably by a staggering seven in 10 women, selecting a female running mate may help alleviate some of Trump's gender woes, and would also bring history-making appeal to the GOP ticket as it faces off against presumptive Democratic nominee Hillary Clinton, who would be the first woman president.
Moreover, Fallin's combination of experience as a state executive and member of Congress could prove attractive for Trump, a political neophyte who has struggled to consolidate establishment GOP support.
Crucially, Fallin is aligned with Trump on immigration, one of his signature issues. As governor, she has crusaded against the Obama administration's immigration policies, arguing that undocumented immigrants have strained her state's resources.
What are Fallin's downsides?
Presiding over Oklahoma's energy-intensive economy at a time of declines in oil and gas prices, Fallin signed a state budget last month that would likely provide substantial fodder for Democratic opposition researchers.
Forced to close a $1.3 billion shortfall, Fallin slashed spending on higher education, health care and corrections, while eliminating some tax credits. The contentious state budget fight appears to have damaged Fallin's popularity in Oklahoma: A Morning Consult poll in May found that only 42% of Sooners approved of her job performance, while 47% disapproved.
Fallin may also generate controversy among social conservatives, a crucial GOP constituency that's already skeptical of the brash billionaire atop the ticket. Though Fallin opposes abortion rights, she drew the ire of many anti-abortion activists in May, when she vetoed a bill that would have jailed abortion providers, calling the measure "so ambiguous and so vague" and arguing that it was unlikely to survive a court challenge.
How likely is Trump to pick her?
A Trump-Fallin ticket appears considerably less likely than, say, a Trump-Gingrich or a Trump-Christie one.
Largely unknown outside her home state, Fallin is untested in the national spotlight, and her middling poll numbers in deep-red Oklahoma may give the Trump campaign pause about offering her a promotion.
What's more, campaign chairman Paul Manafort has indicated that the Trump camp is wary of putting a woman on the ticket, asserting that such a move would be seen as naked "pandering."
Read more: