Philando Castile's Mother Says She Tried to Teach Him "How to Survive" a Police Stop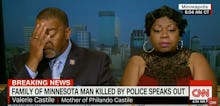 Valerie and Clarence Castile, the mother and uncle of Philando Castile, gave a powerful interview on Thursday morning — only hours after Castile was fatally shot by police during a traffic stop near Minneapolis on Wednesday night. Castile's fiancee, Diamond Reynolds, filmed a graphic video of Castile after he was shot in their car while Reynolds' 4-year-old daughter sat in the back seat. The video was uploaded to Facebook on Wednesday night.
In an interview with CNN on Thursday, Castile's mother described her shock at her son's death — and, in a moment that clearly shows how black families must prepare for the reality of police violence, she described trying to teach her son how to survive an encounter with the police. 
"That was something we always discussed: comply," Valerie Castille told CNN. "That's the key thing — the key thing in order to try to survive being stopped by the police, is to comply. Whatever they ask you to do, do it. Don't say nothing. Just do whatever they want you to do. So what's the difference in complying, and you get killed anyway?"
Philando's uncle, Clarence Castile, spoke powerfully about his anger toward the man who shot and killed his nephew. 
"I saw my nephew shot by a man, clinging to his life, with no help ... It was the most horrific thing I've ever seen in my life," he said. "He's not an officer, he's just a man. An officer is supposed to protect and serve. He's not an officer, that was a man who did that. That man is a destroyer."
Castile's family also expressed their gratitude to Diamond Reynolds for recording the incident. "I want to say that I appreciate Diamond streaming that video live, because we never would know exactly what happened had she not put that out there like that."
They also expressed concern for Reynolds — saying that they last saw her in the back of a police car and don't know where she was taken.
Castile was reportedly carrying a firearm — for which he was licensed — at the time of the shooting. In the video of the immediate aftermath of the shooting, Reynolds explains that Castile was reaching into his back pocket to show police his ID.
Philando Castile's death comes after 37-year-old Alton Sterling was shot and killed by police in Louisiana while he was selling CDs outside a grocery store on Tuesday. 
Read more: