Prince's the Revolution Backing Band to Reunite for 2 Tribute Shows in 'Purple Rain' Venue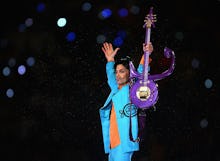 The list of musicians who have honored Prince with tribute performances in the wake of his untimely death have run the gamut — some were incredible, others were certainly debatable. But it seems the best may still be yet to come. 
Prince's longtime backing band, the Revolution, which helped him gain global notoriety for defying traditional music genres, announced it will perform two concerts in his memory in early September, the Guardian reported. The Revolution's shows will be held in Prince's hometown of Minneapolis at First Avenue — the same venue featured in Prince's 1984 film, Purple Rain. 
"With profound loss and apocalyptic grief, we, along with the world, mourned Prince upon the news of his passing," the band said, according to the Guardian. "After seeing the response outside of First Avenue and around the rest of the world's monuments, we, as the Revolution — Wendy, Lisa, BrownMark, Dr. Fink and Bobby Z — have decided to pay tribute to Prince at home in the city of Minneapolis."
Prince's former band, which officially split in 1986 following his Hit n Run — Parade tour (but reunited for shows in the early 2000s), revealed a week after his death they had been spending their days mourning together. "We would like to come out and do some shows," feature guitarist Wendy Melvoin said in the group's Facebook video. "We want to let you know that we'll be there soon."
The Revolution's shows will be held at 8 p.m. local time Sept. 2 and Sept. 3. The venue has listed both performances, with advance tickets on sale for $65.
Read more: