Alton Sterling Shooting Latest Updates: What We Know Now About Baton Rouge Police Killing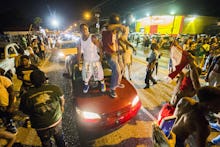 New details have surfaced about what happened before Alton Sterling was shot and killed by police outside a Triple S Food Mart in Baton Rouge, Louisiana, on Tuesday.
Police were called to the scene after a homeless man called 911, according to a senior law enforcement official, CNN reported. The man reportedly approached Sterling and asked him, multiple times, for money. Sterling showed him his gun, and the man called the police.
Sterling's shooting — which involved officers Blane Salamoni and Howie Lake II — was captured in at least two graphic videos.
Remembering Sterling: Meanwhile, a fuller picture is emerging of the man who was shot and killed by police on Tuesday. Sterling was a "fixture" outside the Triple S Food Mart, where he played music and sold CDs, NOLA.com reported.
"If you didn't hear music, Alton wasn't there," Jonathan Banks, who attended a Wednesday night vigil for Sterling, said, according to NOLA.com.
The 37-year-old husband and father would play "anything you wanted to hear," Banks said. 
Triple S Food Mart owner Abdullah Muflahi, who witnessed Sterling's killing, said he'd miss Sterling's presence outside his store.
"I wish Alton was alive," Muflahi said. "We're going to miss him."
The public reaction: The death of Sterling — the 114th known black man killed by police in 2016 — sparked protests outside the Triple S Food Mart and around the country. Hundreds of people were still gathered outside the store in the early hours of Thursday morning, according to the Advocate reporter Bryn Stole. 
Mourners also constructed a memorial around the spot where Sterling was killed.
The fight for justice: Federal authorities are leading the investigation into Sterling's killing, according to CNN. Activists, as well as Sterling's family members, are demanding justice.
"You will see with your own eyes how he was handled unjustly and killed without regard for the lives he helped raise," Sterling's wife, Quinyetta McMillan, said in a press conference. 
"We are a complete community of individuals who will carry this burden and also stand together to ensure that this event will not go unnoticed, especially for the future," McMillan continued. "I, for one, will not rest or not allow him to be swept in the dirt."
Read more: