Identity of Officer Who Shot Philando Castile Likely Under Wraps Until Charges Filed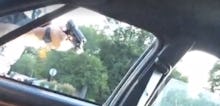 Late Wednesday night, Diamond Reynolds live-streamed the final moments of her fiance Philando Castile's life after he was fatally shot by a police officer during a routine traffic stop in Falcon Heights, Minnesota.
In the video, posted to Facebook Live at around 10 p.m. Eastern, Reynolds can be heard saying that Castile was licensed to carry and notified the officer that he was in possession of a firearm before reaching for his license and registration. The officer fired anyway.
The incident has incited rage and hopelessness in an American public that had only recently begun mourning the death of Alton Sterling, who was killed by police in Baton Rouge, Louisiana, on Tuesday in an incident related to selling CDs outside of a grocery store. The two men's deaths mark the 114th and 115th known times this year a black man has been shot and killed by police officers in the U.S.
Although the demand for answers is only getting louder, the identity of the officer who fatally shot Castile isn't likely to be released anytime soon.
According to CheckthePolice.org, a website that examines the language in police union contracts and interprets how the included protections make it more difficult to expose misconduct, Minnesota state law includes a police bill of rights, which contains a section that prohibits the release of an officer's identity to the public without consent.
The site references Minnesota Statutes Section 626.89, Subdivision 12, which reads:
No law enforcement agency or governmental unit may publicly release photographs of an officer without the written permission of the officer, except that the agency or unit may display a photograph of an officer to a prospective witness as part of an agency or unit investigation, and the agency or unit may provide a photograph of an officer to the civilian police review authority for it to display to a prospective witness as part of the authority's investigation.
This protection, according to the site's interactive graphic, prevents the officer's identity from being released to the media — meaning that the public will likely have to wait to find out the identity of the man responsible for Castile's death.
Correction: July 7, 2016
Read more: