Germany Passes New Law That Constitutes Rape as "No Means No"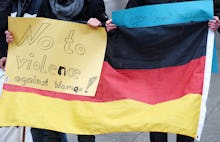 On Thursday, in Germany— a country where only 10% of rapes are reported — a new law was approved by parliament that would not only help sexual assault victims in their allegations, but also tighten the legal definition of consent. 
The new law follows the tenet that "no means no" — or "nein heißt nein" — or else it is considered sexual assault, and the victim can file a complaint. The new law also considers groping a sex crime, and will make it easier to prosecute groups of assaulters and deport foreigners who commit sexual assault. 
With Germany's previous law, victims had to give proof that they physically resisted the attack in order for it to count as rape and be able to even bring forward sexual assault allegations. Because of this limitation, many cases of sexual assault logically never even made it through courts. 
"In the past, there were cases where women were raped but the perpetrators couldn't be punished," German Minister for Women Manuela Schwesig said, according to the Associated Press.
Lawmakers who once opposed the new law had a change of mind after the spate of sexual assault and mugging upon 90 women on the New Year's Eve, which some argued was due to Germany's open-door policy for refugees. The outbreak gave the new law almost unanimous momentum through parliament.  
Critics of the new law argue that it still doesn't do enough for those who can't express a verbal lack of consent, like if they were drugged. They also pointed out difficulties in proving that someone said "no." 
Although a start, the law needs to be passed through the upper house, the Bundesrat — and that won't be possible until after their summer recess. 
Read more: