What You Need to Know About Mike Pence, Donald Trump's Potential Running Mate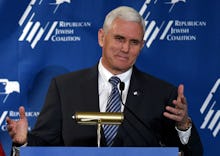 Looking to bolster his support among reluctant conservatives, presumptive Republican presidential nominee Donald Trump has added a name to his list of potential vice presidential running-mates: Indiana Gov. Mike Pence.
A staunch conservative and seasoned politician with connections both inside and outside of Washington, D.C., Pence could ameliorate Trump's image among both establishment Republicans and social conservatives, constituencies that have both been reluctant to climb aboard the Trump Train.
Sources told CNN Pence would "likely accept the role" if offered — a key point, as other potential VP picks have removed themselves from consideration.
Here's a closer look at one of Trump's potential running-mates.
Who is Mike Pence?
Pence was elected governor of Indiana in 2012 and is currently finishing up his first term as the Hoosier State's chief executive.
Prior to his election, Pence served 12 years in Congress, where he spent two years in leadership as the chair of the House Republican Conference.
An Indiana native, Pence is a lawyer by trade.
He was a talk radio show host for five years in the late 1990s — a role that helped launch his political career.
Why would Trump pick Pence?
With both executive and congressional experience, Pence has the political chops and connections that could help Trump marshall his agenda through Capitol Hill — a place Trump may struggle as a political newcomer.
And as an evangelical Christian conservative, Pence could also help Trump build support among former supporters of Sen. Ted Cruz, who have thus far been hesitant, or downright unwilling, to back Trump.
What are Pence's downsides?
While Pence's political career is one of his assets, it also comes with baggage.
Last year, he was the face of Indiana's so-called Religious Freedom bill, which critics said allowed for discrimination against LGBTQ communities.
Pence signed the bill into law, but was later forced to revise it to address unintended financial ramifications for the state.
The National Collegiate Athletic Association, which is based in Indianapolis, said they considered moving events away from the state in the future.
Other businesses — such as Salesforce.com — threatened to cancel job-creating expansions in the state.
The controversy over the Religious Freedom bill caused Pence's support in the state to plummet.
Pence is up for re-election this year, and is barred by state law from appearing on the ballot twice — as both Indiana's GOP gubernatorial nominee and Trump's vice presidential running mate.
If Trump were to choose Pence, it would force the state party to quickly come up with an alternative to place on the ballot for the governor's race in November.
How likely is Trump to pick Pence?
Pence only recently entered the veepstakes fray.
He's not particularly close with Trump, having endorsed Sen. Ted Cruz of Texas ahead of the May 3 Indiana primary.
Conservatives close to CNN said he would need to feel "called by God" to forgo a run for governor and join the national ticket.
All that combined lands Pence toward the lower end of Trump's VP shortlist.
Read more: