Larry Wilmore Delivered a Powerful Segment About the Death of Alton Sterling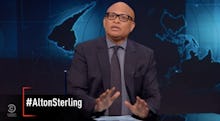 On Wednesday night's episode of The Nightly Show, after news broke of the death of 37-year-old Alton Sterling at the hands of police — host Larry Wilmore delivered a powerful indictment of police violence against black Americans and the startling regularity with which black people are shot and killed by police officers.
"To be frank with you, we're just tired of this shit happening and feel like we have to address it in some way," he said.
But, as Wilmore pointed out, these stories aren't new — it's just that more smartphones means more video evidence than ever before. 
But the evidence only shows how often black Americans are being killed on the spot by police — only to have their killings justified by reports of "past criminal histories."
"Whenever this happens, there's always an immediate takedown of the dead man's character," Wilmore said. "So he had a criminal record, Martha Stewart has a criminal record ... No matter what his crimes were, Alton Sterling did not deserve to be executed for them."
The reality that Wilmore pointed out is that black Americans are being killed. The people who believe #BlackLivesMatter likely are already aware of this, but the people who believe that #AllLivesMatter should be up in arms too, Wilmore sai, if they really stand by what they say.
Here's a list of 23 everyday activities that are apparently punishable by immediate execution in the U.S. — at least, if you're black.
Read more: