Dorothy Williams of 'America's Got Talent' Will Heal Your Life With a Sensual Striptease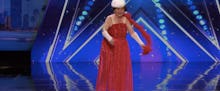 Sometimes life can be a lot to handle. Perhaps you feel stuck in your career. Maybe your once-red hot marriage has dissolved into a murky cloud of resentment and sexual frustration. Or maybe your children hate you and even your dog kinda looks at you in a way that says, "Aw. You're pathetic."
You know what you need to heal your life? A striptease from a 90-year-old woman!
Luckily, the world was treated to just that on Tuesday night's broadcast of America's Got Talent when Dorothy Williams — a sassy old broad — got up on stage and wowed the judges with her burlesque-style stripping prowess.
Williams made it clear that you can be sassy 'n' sexy — or perhaps fun 'n' flirty — at any age.
There were even life-affirming booby tassels involved!
"When I get on that stage I want to prove that you're never too old to follow your dreams," Williams said before her *titillating* performance. The judges were obviously very impressed.
"Good for you!" gushed Mel B., a.k.a. Scary Spice. "Good for you."
"I love you, I love the message," Howie Mandel raved. "You are a great example. You are inspiring."
Even notorious curmudgeon Simon Cowell was like, "I do think there's an audience for you."
The audience he's referring to, of course, is anyone who loves badass elderly women following their dreams (and wearing titty tassels). If that sounds like you, then go ahead and check out the full performance below:
Read more: