Is Mr. Sulu in 'Star Trek Beyond' Gay? Actor John Cho Reportedly Confirms Reveal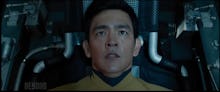 While very little has been revealed about the third installment of the rebooted Star Trek films, Star Trek Beyond — aside from the fact that Rihanna is a surprisingly good fit for the Star Trek universe — actor John Cho reportedly recently shared an important revelation about his character, Hikaru Sulu. 
(Editor's note: Potential spoilers for Star Trek Beyond ahead.)
According to the Herald Sun, during a press event for the film in Sydney, Cho said that Sulu is raising a daughter with a same-sex partner in the new film. Cho reportedly added that the decision to reveal Sulu as gay in the revamped franchise was an allusion to Star Trek alum George Takei, who played the character in the original series and is a leading LGBTQ rights activist in the United States. 
"I liked the approach, which was not to make a big thing out [of] it, which is where I hope we are going as a species, to not politicize one's personal orientations," Cho said.
Cho had previously told Entertainment Tonight that Sulu would have a daughter in the film, but more importantly, added that "there is another revelation that you'll find out in regards to this baby, but you'll have to wait to see the movie."
For longtime Star Trek fans, this isn't the first time the franchise has made a progressive leap beyond its industry. The original series also featured the first interracial kiss on U.S. television, in 1968, and has previously teased that the rebooted Star Trek television series on CBS will have a similarly diverse representation. 
Star Trek Beyond will arrive in U.S. theaters July 22. 
Read more: