Baghdad Bombing Death Toll Just Jumped to Nearly 300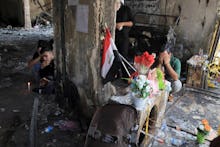 The death toll for an Islamic State bombing in Baghdad, Iraq, on Saturday jumped to 292 Thursday, CNN reports, following the recent deaths of those initially wounded in the attack. 
A refrigerator truck packed with explosives drove into Karrada, one of Baghdad's central districts, where it was detonated. The attack happened near the end of Ramadan, after sunset, when practicing Muslims were allowed to eat and drink; Karrada was bustling with locals, gathering to shop and eat. 
Footage of the district in flames, shortly after the bombing, was posted to social media by those present. 
Soon after the attack, another bomb was detonated north of Baghdad, leaving five people dead.
There is growing outrage amongst the Iraqi general public regarding its government's perceived inability to prevent bombings and attacks of this nature. Angry protestors marched on Sunday from Karrada to the home of Prime Minister Haider al-Abadi, protesting the government's ineffectuality. 
On Tuesday, Iraqi interior minister Mohammed al-Ghabban resigned. Al-Ghabban told local news agencies the government "has failed in having the different array of security forces work under a unified plan in Baghdad," according to Al Jazeera.
The country has been rocked by violence from the Islamic State in recent months — on March 25, for example, the terrorist network set off a bomb at a football stadium. The group has relentlessly pushed back against the government's floundering attempt to curtail ISIS. 
Read more: