Diamond Reynolds Spoke to Reporters About Philando Castile's Death: "I Want Justice"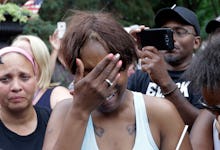 "They took my lifeline, that was my best friend. ... He killed him in front of us for no reason." 
During an emotional news conference that was livestreamed Thursday morning, Diamond Reynolds described what happened after her boyfriend, Philando Castile, was shot and killed during a traffic stop by police in Falcon Heights, Minnesota. Reynolds said police treated her like a prisoner after removing her from the scene of the shooting, keeping her isolated from her 4-year-old daughter and refusing to let her speak with or make phone calls to anyone.
Reynolds also recounted the moments leading up to the shooting, explaining how she, her young daughter and Castile were driving home from the grocery store after working all day, when they were pulled over for a "busted tail light that was not busted."
She confirmed the information she relayed during the initial Facebook livestream: that Castile had informed the officer he was licensed to carry, that he was in possession of a firearm before complying with requests to present identification from his wallet and that the officer proceeded to take "four or five shots into him for no reason."
The aftermath of the shooting was captured by Reynolds via a live video she shared to Facebook.
Reynolds broke down at one point in the conference, saying her young daughter — who witnessed the entire incident — will be "forever scarred by what the police of Falcon Heights did to us."
According to Reynolds, police kept her and her daughter at the Roseville Police Department until 5 a.m.
"I want justice," Reynolds said. "[The officer] should not be home with his family, he should be somewhere in jail handcuffed. They took me to jail. They didn't feed us, they didn't give us water. They took everything from me. They put me in a room and separated me from my child."
Reynolds also described her boyfriend: Castile worked for St. Paul public schools for over ten years and never had a criminal record or gang affiliations, she said. "He was a hardworking man," she said. "His birthday is in nine days." Castile would have been 35 years old, Reynolds said, although family members said he was 32. 
Responding to a reporter's question about what immediate action she wanted the government to take, Reynolds said she wanted to eliminate the hypocrisy of the way people who are licensed to carry firearms are treated by police.
"I want Governor Mark Dayton to allow these people who are licensed to carry to have more rights," she said. "If we are licensed to carry, then a police officer should not be able to gun a man down."
"Also, I would like for him to get more involved [with] these police officers," Reynolds continued. "They have mental problems. They have battles that they're fighting."
Reynolds doesn't remember the name or the badge number of the officer who fatally shot Castile; she said that he became extremely upset after firing the shots, shouting expletives and exclaiming that he couldn't believe what had happened.
She described him as Asian, about 5'6 and between 150 and 170 pounds. Other officers arriving to the scene immediately began to console him, even as they placed Reynolds in the back of a police car, she said.
Reynolds said she decided to record the aftermath of her boyfriend's shooting because of a fundamental mistrust of police.
"Because I wanted everyone in the world to know that no matter how much the police tamper with evidence, how much they stick together. ... They manipulate our minds to believe what they want," she said. "I wanted to put it on Facebook and go viral so that the people could see. I wanted the people to determine who was right and who was wrong."
"I didn't do it for pity, I didn't do it for fame," she continued. "I did it so that the world knows that these police are not here to protect and serve us, they are here to assassinate us. They are here to kill us because we are black."
July 8, 2016, 2:23 p.m.: This story has been updated.
Read more: