Googling "How Many Genders Are There" Resulted in This Backward, Toxic Result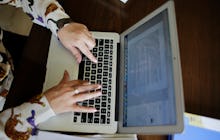 Silicon Valley has a white dude problem: Major tech companies still fail to close their ethnic and gender gaps, and it's not just evident in public diversity numbers. It's evident in their products.
The latest issue is the Google search result for "how many genders are there." As someone on Reddit pointed out Wednesday, the Google Answer Box at the top of the search results used to say this: "There are only 2 genders. Male and Female." The results linked to a Wikipedia page for "Gender." 
The featured snippet promoted an antiquated idea — that nonbinary gender identities aren't real.
(The user, Moltencleavag, actually posted the result apparently to mock liberals. "Google is about to trigger so many people," they wrote.)
The "gender" line has been removed from the Wikipedia article, and the featured snippet has been removed. But since a cached version of the page still appears, the line is visible as a top result when you Google the phrase. 
This isn't the first time search results have proven problematic — the best guess for a Google Image search result for two black men was "gang," while the best guess for the same photo with a black and white man was "art," further showing racial bias in algorithms. In 2015, Google's Photos app mistakenly autotagged a photo of a black man and woman as "gorillas."
Social networks are starting to reflect gender diversity: Tech companies have recently been making changes to reflect their diverse set of users: Facebook created over 50 gender options for folks to choose from in 2014, for example.
Google has admitted it has an obligation to push for greater progress in this space. "Even if you don't know exactly what you're looking for, finding an answer on the web is our problem, not yours," Google wrote in a blog post when the company was new. "We try to anticipate needs not yet articulated by our global audience, and meet them with products and services that set new standards."
At the time of writing, there have been over 2 million Google searches so far — just today. With so many people turning to the search bar for answers, the results should accurately reflect the diversity of the internet. 
We have reached out to Google and Wikipedia for comment.
Read more: