White People Keep Asking This Racist Question About Alton Sterling and Philando Castile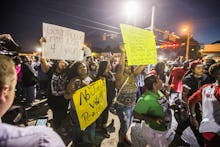 In the wake of two black men — Alton Sterling and Philando Castile — being shot to death by police in a timespan of just under 48 hours, some Twitter users began saying that the black community — especially those associated with the Black Lives Matter movement — is focusing its energy on the wrong problem. Instead of trying to fix the problem of police brutality that results in the killings of seemingly countless black people every year, many on Twitter suggest that the black community and its allies should focus on "black-on-black crime".
In Baton Rouge, Louisiana, 37-year-old Sterling was selling CDs in front of a Triple S Food Mart when he was gunned down. Video of his death shows him being pinned down, stun gunned and shot. On Wednesday, Castile was shot during a traffic stop in Minnesota. Castile's fiancee, Diamond Reynolds, said Castile was reaching for his ID when he was shot. Castile's death marked the 115th black man killed by police in the United States in 2016, according to the Washington Post's database.
But there's one glaring problem with that argument:
An analysis of a 2014 FBI report on 160 incidents where suspects were "actively engaged in killing or attempting to kill people" found that black people were disproportionately shot by police over other races, BuzzFeed reported in December. Out of the 34 suspects who were black, 10 were shot, or 29%. Out of the 126 suspects of other races (mostly white), 25 were shot, or 20%.
While many of the "black-on-black crime" preachers pointed toward Chicago's high rate of shootings, which is reaching epidemic levels, recently there has been only a slight difference between black-on-black homicide rates and white-on-white homicide rates. According to the 2014 Uniform Crime Report's Crime in the United States data compiled by the FBI, about 82% of white homicides were committed by another white person; about 90% of black homicides were committed by another black person. 
Take into account the systemic racism in the criminal justice system and the fact that police officers are state-sanctioned — and seemingly inherently given authority without repercussions — therein lies just a few reasons why people should care about Sterling and Castile and throw away the "black-on-black crime" fallacy. 
Where did anyone even get this sort of misinformation? Oh right. 
Read more: