Former 'Daily Show' Correspondent Wyatt Cenac Goes Off on Police Violence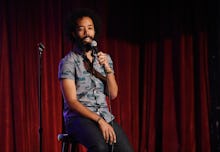 Comedian Wyatt Cenac spoke out against police violence in a string of Facebook posts on Thursday morning shortly after news broke that yet another black man had been shot and killed by police officers during a routine traffic stop.
Cenac called out the double standard of those who hold all Muslims responsible for extremist violence but don't call on police to denounce the actions of their fellow officers.
Then he hit on another irony.
Cenac also brought up the oft-repeated admonition that black Americans shouldn't "dwell" on the history of racial oppression in the U.S. — and should "get over" the roughly two-and-a-half centuries of legal slavery in North America.
Cenac echoes the sentiments of many, including fellow Daily Show alum Larry Wilmore, in pointing out that having brown skin shouldn't be punishable by death.
Cenac's frustration comes after an especially horrific week of police violence against black Americans: On Tuesday, 37-year-old Alton Sterling was fatally shot by Louisiana police — and then on Wednesday, 32-year-old Philando Castile was shot and killed by police in Minnesota.
Read more: