15 Years Ago, Aaliyah's Intuitive Cool Became a Blueprint for the Future of R&B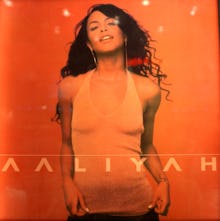 You know what they say about a woman's intuition. Those hunches are true 99.9% percent of the time. Whether a woman follows them depends on how much she trusts that inner voice.
At 22, Aaliyah embraced hers. At that point in her life, she found safe space in her creative clairvoyance. "And she was in full blossom," Jomo Hankerson, Aaliyah's cousin and president of Blackground Records, told Vibe in 2001. "All you saw was unlimited potential. She was about to soar."
Stepping into her own, she appropriately self-titled her third LP and released it 15 years ago Thursday.
Musically, her instinctual, effortless cool translated into art ahead of its time. With that album end up leaving behind a blueprint for R&B in the new millennium — one she would never live to see. Shortly after filming her music video for "Rock the Boat," she died in a plane crash in the Bahamas, but her genre ended up unfolding exactly along those lines she laid out with Aaliyah.
Before her death Aug. 25, 2001, Aaliyah was on her grind. It had been five years since her second opus One in a Million and she had sold millions of albums. She took chances in the acting world, playing the vampire Akasa in the horror fantasy flick Queen of the Damned (released posthumously) to follow her successful tenure as the lead in Romeo Must Die. She reportedly recorded Aaliyah at the same time she filmed Queen in Australia. 
"On the days when I had to shoot during the day, I would record at night, and vice versa," Aaliyah told Billboard. "[But] there was nights when I didn't go into the studio — I was too tired. On the weekends, I always made it."
Aaliyah had far more creative control for her self-titled album, acting as executive producer.
Aaliyah took the album's content far beyond puppy love crushes, exploring relationships with mature levels of emotional knowingness. The first track "We Need a Resolution" opens with warpy clarinet samples and Timbaland rapping repeatedly, "I'm tired of arguing girl." He's dodging confrontation. But Aaliyah cuts to the chase, responding in a chill, direct manner: "Did you sleep on the wrong side?/ I'm catching a bad vibe." Going forward on the album, she laid out frank feelings, coating each track with soft and delicate vocals, whether the topic be pain or pleasure. 
But she also covers the euphoria of love. On "More Than a Woman," she has everything her man is looking for, silencing his need to look further. On the sensual and smooth mid-tempo "Rock the Boat," she is captain of her physical needs in the bedroom and confidently directs the voyage. She knew what she wanted and knew how to get it.
"She had come a long way from the enigmatic 'Back & Forth' girl hidden behind baggy jeans and sunglasses, and she was on the cusp of entering a new chapter," Warren Fu, who designed the album's cover, wrote in Wax Poetics. "I felt that the album cover needed to be an announcement of her arrival as a woman." Aaliyah's style changed, but her mysterious brand of sexy only evolved.
Aaliyah also asked Fu to transform her into an anime character as a promotional clip for her album. Years later, the image of her hopping on a motorcycle and riding off in super-heroine fashion feels a distant precursor to Marvel's recent decision to introduce a black teen girl named Riri Williams who will take over as Iron Man in future comics.
Whether Aaliyah would still be as popular today as she was in 2001 is often asked on anniversaries like Thursday's. Would she have embraced acting fully, like Queen Latifah? Would she had slowly faded into the background as new artists arose? It's hard to tell, but there is no doubt Aaliyah left us wondering.
She didn't get to witness how her flair lived on through Chris Brown and Ciara's dancing styles, how artists like Drake and Tinashe went on to idolize her and mimic emotional coo.
"We owe our chill vibe to her," Tinashe told Billboard in 2014. "People were used to artists belting things out. She brought a new vocal styling that wasn't represented in R&B. Not everything has to be so up-tempo."
Aaliyah's left a void, which R&B is still filling today using the styles and poise she managed to capture before death.
Read more: