What You Need to Know About Newt Gingrich, Donald Trump's Potential Running Mate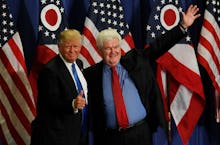 The failure of Newt Gingrich's 2012 presidential bid seemed to dim the lights on his career in electoral politics, but the former House Speaker may yet have a third act.
Gingrich — equal parts cerebral and combative — has emerged as one of the leading contenders to serve as presumptive Republican nominee Donald Trump's vice presidential running mate, a selection that would add further color and controversy to a campaign that's seen no shortage of either.
Here's a closer look at Trump's prospective deputy.
Who is Newt Gingrich?
A Tulane University-trained historian, Gingrich, 73, briefly taught at West Georgia College before winning election to Congress from the Peach State in 1978.
Ascending the House GOP leadership ranks, Gingrich served as minority whip from 1989 through 1994, the year he helped engineer the Republicans' takeover of the House. Advocating a staunchly conservative agenda outlined in the famed Contract with America, Gingrich led the Republican opposition to President Bill Clinton during his four-year speakership, a period which witnessed two government shutdowns amid bitter disagreements over the national budget.
Facing a rebellion within the GOP conference after a disappointing showing for Republicans in the 1998 mid-terms, Gingrich announced his resignation from both the speakership and Congress.
Over the next dozen years, Gingrich founded several ventures, including the Center for Health Transformation, Gingrich Productions and Gingrich Communications. He remained a prominent conservative spokesman, contemplating a 2008 presidential bid before passing on the race. Four years later he took the plunge, mounting a serious challenge to GOP frontrunner Mitt Romney but ultimately faltering after failing to consolidate conservative support.
Why would Trump pick him?
Given his dearth of Washington experience, Trump may turn to the seasoned Beltway insider to shore up support for his legislative agenda with congressional Republicans.
And though Trump himself is never one to shirk a fight, the sharp-elbowed Gingrich would relish the attack dog role traditionally filled by vice presidential running mates. At the same time, the professorial Gingrich would lend intellectual heft to the ticket.
What are Gingrich's downsides?
With approximately as much baggage as an airport carousel, Gingrich is far from a risk-free choice.
His acrimonious relationships with many of his Republican contemporaries — including President George H. W. Bush and 1996 presidential nominee Bob Dole — cast doubt on whether he would be effective in convincing Republicans not already aboard the Trump Train, to join. And many in the party are nervous about a ticket featuring two thrice-married men, both of whom have admitted to extramarital affairs.
Meanwhile, Gingrich could arouse opposition from some conservative corners, given his appearance in a 2008 ad with then-House Speaker Nancy Pelosi advocating action on climate change, and his 2013 call for Republicans to embrace comprehensive immigration reform.
And while vice presidential picks rarely influence the outcome of the general election, Gingrich is unlikely to broaden Trump's appeal with the electorate; a March 2012 CNN poll found his favorable rating at just 24% nationally, with 60% viewing him unfavorably.
How likely is Trump to pick him?
Despite his drawbacks, there's a strong case to be made that Gingrich is the vice presidential frontrunner.
In one of the clearest signs that he may be gunning for the position, Gingrich — who helped push the North American Free Trade Agreement through Congress two decades ago — recently announced that he had come around to Trump's more protectionist views on free trade, indicating that he may be prepared to play second fiddle.
He's reportedly a favorite of Trump's daughter Ivanka and son-in-law Jared Kushner, both of whom are highly influential figures in the campaign. Another factor working to Gingrich's advantage: Many up-and-coming Republicans are wary of joining Trump's ticket, worried that he's headed for a November shellacking at the hands of presumptive Democratic nominee Hillary Clinton. At 73, Gingrich is hardly a likely contender in a future presidential election, and may well see little to lose by rolling the dice on Trump.
Read more: