'Star Wars: Episode VIII': Daisy Ridley's New Hairstyle Could Reveal a Major Spoiler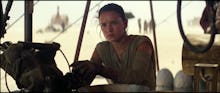 While Star Wars fans continue to ponder Rey's parentage, more speculation around the character has emerged: What the heck is going on with Daisy Ridley's hair? The actress, who is filming Star Wars: Episode VIII, apparently has to keep whatever hairstyle Rey is going for as a secret. 
It's so secret, in fact, that the latest video on Ridley's Instagram — which routinely features her workouts and occasional lightsaber-teasing clips — shows her wrapping a pillowcase around her head to keep it concealed. Or, as she says in the caption, "to protect my Rey hairstyle from Instagram's gaze." 
The Star Wars franchise certainly should keep things in-house — especially after a German Star Wars fan supposedly leaked some spoilers for the upcoming anthology film, Rogue One — but Rey's new hairstyle seems like an innocuous detail that wouldn't have garnered much attention in its own right. 
But in light of the secrecy, and in light of previous rumors that indicated that Rey and Luke Skywalker will be sporting new looks in the sequel, fans will continue to speculate what it could mean (and look like). The Force is strong with confidentiality. 
Read more: