Emily Ratajkowski Issues Expert Clapback After Piers Morgan Attempts to Body Shame Her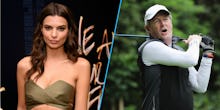 Emily Ratajkowski's new Harper's Bazaar feature has the 25-year-old model/actress sitting down with famed feminist author Naomi Wolf to discuss past instances of body shaming and her desire to "dress sexually casually" without it being something that people notice.
Unfortunately, professional troll Piers Morgan attempted to upend the the very message of the article by reposting Ratajowksi's tweet announcing the article, adding "Do you want me to buy you some clothes? You look freezing." 
Hilarious — if your humor veers toward the obvious.
Taking a page from the Chrissy Teigen/John Legend playbook, Ratajkowski decided to troll back, thanking the comedian for his less-than-keen observation, adding "but I don't need clothes as much as you need press."
Unable to lie on his sword, stop while he was behind or allow a last word that was not his own, Morgan responded yet again, accusing Ratajowski of "fancy[ing] him."
This is hardly Morgan's first shot at Ratajkowski. In May, Morgan declared the end of feminism, tweeting an image of suffragette Emmeline Pankhurst alongside Ratajkowski's topless selfie with her pal Kim Kardashian West.
"He criticizes everyone," Ratajkowski told the Evening Standard when asked for her thoughts on Morgan. "I think he's also really attention-seeking. It's the Trump phenomenon. If you keep saying controversial things, then you keep trending on Facebook, and that's great for some people's careers."
Had Morgan decided to perhaps read Ratajkowski's latest profile, he may have learned a thing or two about real feminism — a subject he clearly needs a lesson on.
Read more: