Minnesota Gov. Mark Dayton Requests Federal Investigation Into Philando Castile's Death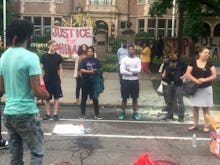 Minnesota Governor Mark Dayton has issued a statement on Philando Castile, the black man who was shot and killed Wednesday night during a traffic stop in Falcon Heights, Minnesota. 
Protesters gathered outside Dayton's home in the early hours of Thursday morning, saying they wouldn't go home until he came out and gave a statement, according to KMSP.
David Montgomery, a political reporter at the St. Paul Pioneer Press, tweeted out Dayton's statement, as well as a statement from Lt. Gov. Tina Smith. 
The Bureau of Criminal Apprehension has initiated an independent investigation at the state level, according to Dayton's statement. "They are currently collecting all necessary evidence, and interviewing witnesses, to determine what happened, and to assure that justice in this case is served," it said.
Dayton also said he spoke with White House Chief of Staff Denis McDonough "to request that the U.S. Department of Justice begin an immediate independent federal investigation into this matter."
July 8, 2016, 2:45 p.m.: This story has been updated. 
Read more: