Mischa Barton Sips Rosé on a Boat, Meaningfully Reflects on Alton Sterling's Death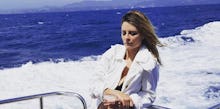 From an expensive-looking yacht, with a glass of rosé in hand, white woman Mischa Barton stopped Thursday to #reflect upon the disproportionate number of black men killed by police in 2016.
In a since-deleted Instagram post, the former O.C. star could be seen solemnly thinking about police brutality, the sea air blowing back her tresses as she lounged aboard a boat in a black bikini — and absorbed the devastating news.
The caption accompanying the picture of the seafaring Barton condemned the death of black father Alton Sterling — who was killed by a Baton Rouge, Louisiana, police officer while selling CDs outside of a grocery store — and called for gun control legislation and unity.
"I'm truly heartbroken to watch videos like the #altonsterlingexecution. This may have been going on forever in the United States, but thank god the pigs get caught on camera now. It's unthinkable and an embarrassment to America. The country I was brought up in. Somebody make change. We need gun control and unity. And a real President so think about that when this election is around the corner. The world is a precarious place right now. #stop #reflect and #act appropriately."
Please, someone, help us to affect real change. But not Mischa Barton — she seems pretty busy with that wine.
Read more: